After more than two years of work-from-home and hybrid work environments left offices unused or rarely used, the Madison, Wis.-based Filene Research Institute welcomed employees from WOCCU and the Worldwide Foundation for Credit Unions into a new, shared space headquarters for all three organizations in downtown Madison on Wednesday.
ONLINE INCOME OPPORTUNITIES
Crypto Cash
Forex Trading Guide
Get Paid Working from Home
Job Opportunities- Find a Career
Rapid Profit Machine

Side Hustle Opportunities
Timebucks Rewards

During an unveiling of the new office, WOCCU President/CEO Elissa McCarter LaBorde joined Filene CEO Mark Meyer to welcome employees to their new space after two years of wondering what the future of work might look like.
Ultimately, the organizations decided to join together and share the offices because cooperation and collaboration requires a physical space at times.
"This was a really interesting opportunity to put words into action. This gives us an opportunity to actually show that we're sharing space and we're sharing ideas and we're sharing a path to how do we actually truly work together for the benefit of growing the global credit union movement," said LaBorde.

Both LaBorde and Meyer said they will continue a hybrid work schedule for employees.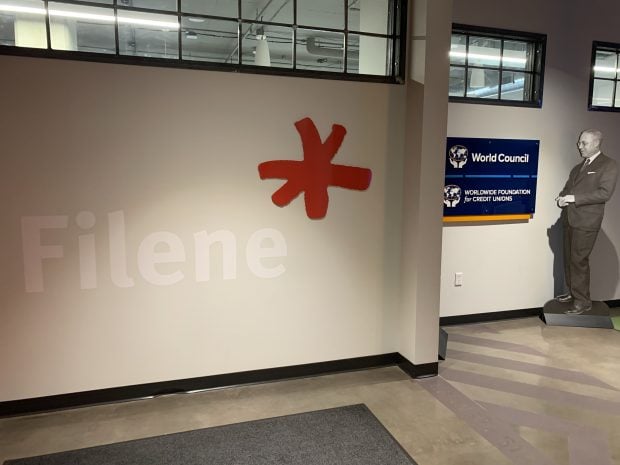 "Filene has embraced the hybrid work model because we still find so much value in the in-person 'accidental collisions' that happen in the hallways," said Meyer. "Welcoming WOCCU into our office space will create invaluable opportunities to advance ideas and create new opportunities jointly for our staff, our organizations and the credit union system."
Earlier this year, WOCCU, the Foundation and CUNA announced they were moving out of the offices on the west side of Madison they had occupied for several years. CUNA stated they will move their Madison-based offices to a new development on the city's west side sometime in the first half of 2023.
While WOCCU continues to occupy its offices in Washington, D.C., LaBorde said this new collaborative space is an exciting step forward for everyone involved.
"Sharing space in our Madison offices puts into practice what we too often only talk about: cooperation among cooperatives is what drives success of the global credit union movement," said LaBorde.